04 Nov

It's Movie Week at HIA!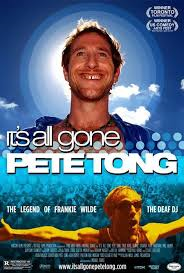 This week at the Sound Advice blog we will be featuring some entertaining movies that also happen to relate to hearing. Stay tuned all week to read the overview of each movie, then pick your favourite (or watch them all!) next weekend. Curl up with a blanket, pop some popcorn, and settle in for a great movie night!
It's All Gone Pete Tong (2004)
Its All Gone Pete Tong is a comedy following the tragic life of legendary Frankie Wilde. The story takes us through Frankie's life from one of the best DJ's alive, through subsequent battle with a hearing disorder, culminating in his mysterious disappearance from the scene. A genius in his own right, he clawed his way to the top of the DJ ranks, now living the opulent life of a superstar, he resides in his trophy villa in Ibiza with his trophy wife. This is when tragedy hits. Due to a hearing disorder he is rapidly going deaf with only one functioning ear to complete the new Ibiza season. How is he doing behind the decks? Horrible. How is he doing in the studio where he produces his remixes? Frankie dives into a low period, struggling with deafness in utter depression. After a year of locking himself away he emerges on the other side with a fresh attitude towards his affliction. He accepts his deafness and learns to function without sound. Will Frankie make it back to the DJ booth? Will his new single be any good? Will he get back his opulent old life or does he even want it back? When you can't hear, things look very different. (Summary from IMDB.com).
Official Trailer: http://www.youtube.com/watch?v=WGsCzaI5qrM
*Disclaimer: please note that the movies during Movie Week at HIA are not necessarily suitable for all audiences. Please watch at your own discretion.