31 Jan

Home Phone Solution: The Phonak DECT home phone

This is a cordless phone for both regular use and use with hearing aids. While it looks like a regular phone, and for your normal-hearing family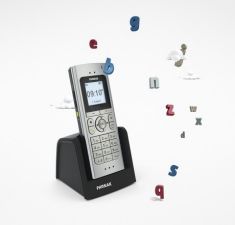 members will function as a normal phone, it is actually very different for a hearing aid user. A traditional phone only functions with one hearing aid (the ear that the phone is held to); however, we have two ears, why not use them! When we hear with two ears, we have better noise reduction and maximal speech comprehension. The Phonak DECT phone transmits sound wirelessly to both ears simultaneously, leading to reduction in noise and maximal speech understanding.
When you're not wearing your hearing aids, there is a "booster mode" which will amplify the speaker to a comfortable level.
Product details:
Optimized vibrating and ringtone alert.
Spearkerphone option.
Direct dial button for urgent number.
Also suitable for people with normal hearing.
Phone book (up to 300 entries).
Voicemail.
Caller identification.
Alarm clock function.