27 Jul

Halifax Busker Festival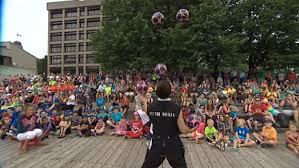 The annual busker festival kicks off on the Halifax Waterfront in 2 days! Starting July 29 and running to August 3, thousands of visitors and local haligonians will flock to the waterfront to take in entertainment of all sorts!
Tips for Hearing at the Buskers!
Separate from the crowd as much as possible
Kindly ask people to "sshhh" if their voices become distracting
Get a spot up front and center – this way you can use visual cues such as speech reading or the body language of the performers
At night, watch from a well lit area
If you are a Hearing Aid user – turn on your Directional Listening program, ask your Audiologist for help prior too!