05 Nov

It's Movie Week at HIA!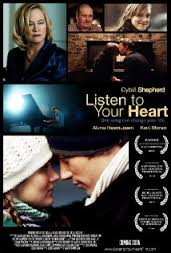 This week at the Sound Advice blog we will be featuring some entertaining movies that also happen to relate to hearing. Stay tuned all week to read the overview of each movie, then pick your favourite (or watch them all!) next weekend. Curl up with a blanket, pop some popcorn, and settle in for a great movie night!
Listen to Your Heart (2010)
Danny (Kent Moran) has an apartment as small as his paychecks, no family, and a struggling music career. But with unwaivering optimism, for Danny, "every day is a great day to be alive." It's love at first sight when Danny meets Ariana (Alexia Rasmussen), a wealthy hearing-impaired girl from Greenwich, CT who tragically cannot hear the music she inspires him to write. Ariana is torn between hanging onto the shelter her controlling mother (Cybill Shepherd) provides and fighting for a love that, if just given the chance, might just change her life. When tragedy strikes, determined that nothing can keep them apart, they must trust in the power of their love, and together discover just how important it is to "listen to your heart." -Synopsis taken from IMDB.com.